Are you eligible for a booster? Click here or on the image below: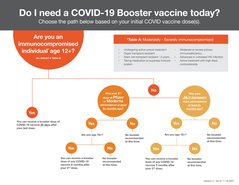 Currently, CDC has recommended that individuals who meet the following criteria are eligible to receive an additional dose:
Patients should speak with their healthcare provider about their medical condition, and whether getting an additional dose is appropriate for them.
Are you concerned about your flu shot preventing you from getting a COVID booster? Don't worry. At this time, there is no minimum waiting period between other vaccinations and a COVID booster. If you have any questions, please be sure to talk to your Kinney Drugs pharmacist.
Please note: Anyone seeking a third dose must attest that they are eligible to receive a third dose of vaccine before the dose may be administered by a pharmacist.
Third Dose Eligibility Attestation - Print & Sign